I've packed up my craft space to get ready for the move, but didn't want to take everything with me. So I set aside a nice-sized pile of scrapbooking goodness for one lucky reader. This giveaway is so big, I had to split up the stash & take 2 photos of it. Wanna see what you could win??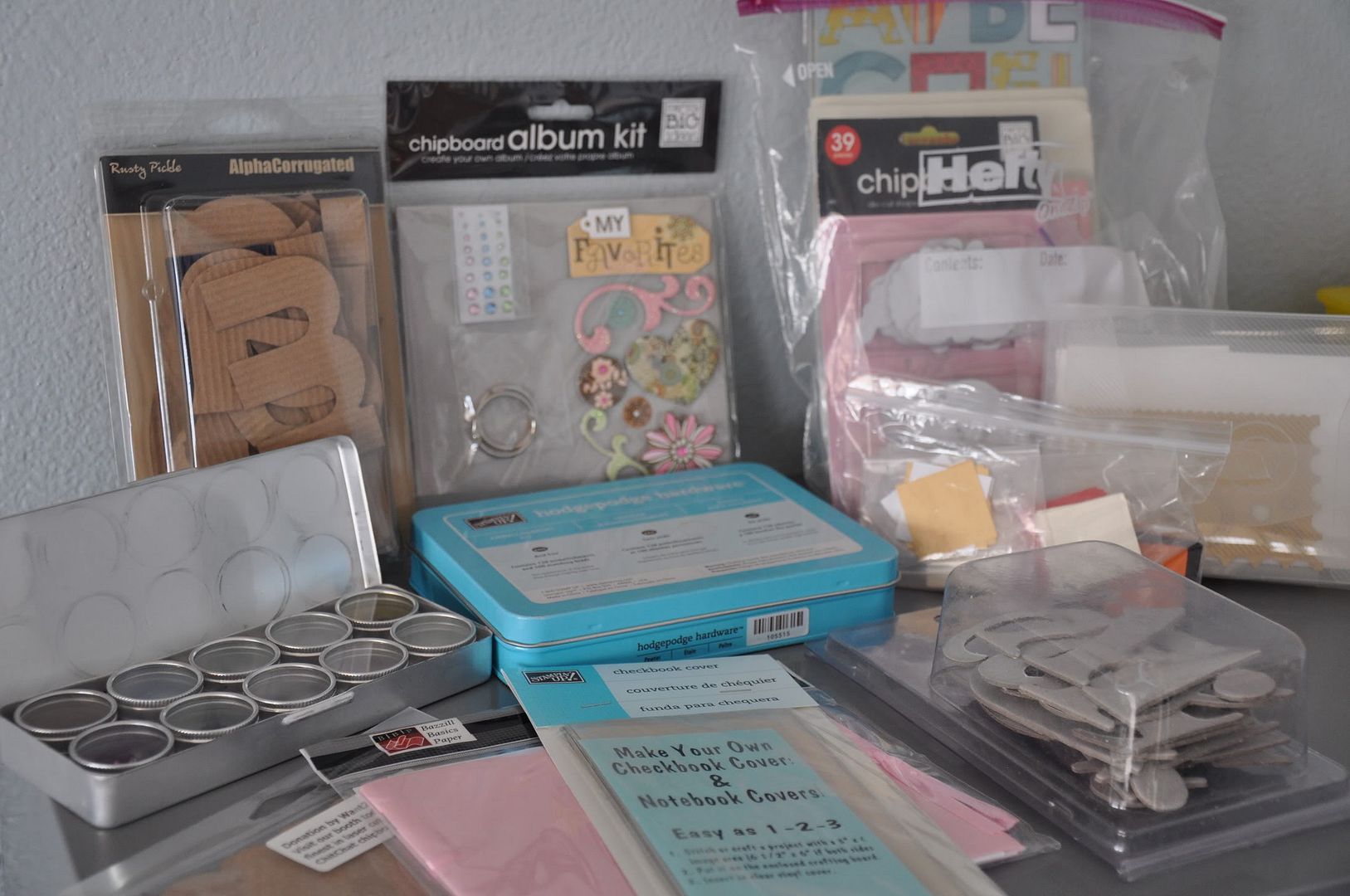 Giveaway includes:
Handmade birthday gift bag
Handmade card
Handmade family mini photo album
Pink metal storage tin (with cute skull pattern)
Star chipboard album
Acrylic album (wrapped in blue)
Heart embosser
Keychain
Stampin' Up! ribbon holders (2)
Ribbon
Pretty post-it notes
Buttons (colors vary)
Flowers in blue, white & brown
Mini orange albums (3)
Green self-adhesive flower ribbon
Chipboard album
Chipboard (used, but many letters & styles included)
Dry embossing template & stylus
Tin full of eyelets
Stampin' Up! Hodgepodge Hardware kit (some of it is used)
Scalloped chipboard album
Pink mini album
Stampin' Up! make your own checkbook cover
Square punched cardstock in various colors (great for tags, etc!)
Wheh!! Okay so you've seen the loot. Now read on to find out how you can win it all!
1. You must be a follower of this blog. If you are not already a follower, then become one :)
Leave a comment in the comments section letting me know you are a follower & how long you've been following letter A studio.
2. Refer a friend.
Leave a comment in the comments section letting me know who referred you after you've become a follower. I will give that person an extra entry!)
3. Blog about the giveaway on your blog.
Leave a link to your fabulous blog in the comments section & I'll be sure to stop by.
4. Share an embarrassing crafting moment.
Share your story! I could use a good laugh today since our bathroom remodel is not going as planned, ha!
**Giveaway ends on Thursday, August 25th. Winner will be announced next Friday!**
So that's it! You have 4 ways to enter. Good luck!!!
--Anna