General Conference weekend ended up being much busier than I had planned it in my head. I thought it would be a quiet weekend at home, our eyes glued to the television with naps between sessions. It ended up being soccer games Saturday morning, the Mr. running over to the church to set up the broadcast for those who wanted to watch it there, watching conference, making homemade bread and rolls because we were out, working on the fencing for our new little garden, chatting with our very elderly neighbors about our soon-to-be planted garden, and kids playing with neighborhood friends somewhere in the middle of all that. By the end of Sunday night, I was exhausted and ready to hit the sack when the Mr. found
The Hunger Games
on netflix and the next thing you know we are going to bed waaaaay too late. Late bedtimes are my nemesis. I need to practice much more self control when it comes to going to bed early.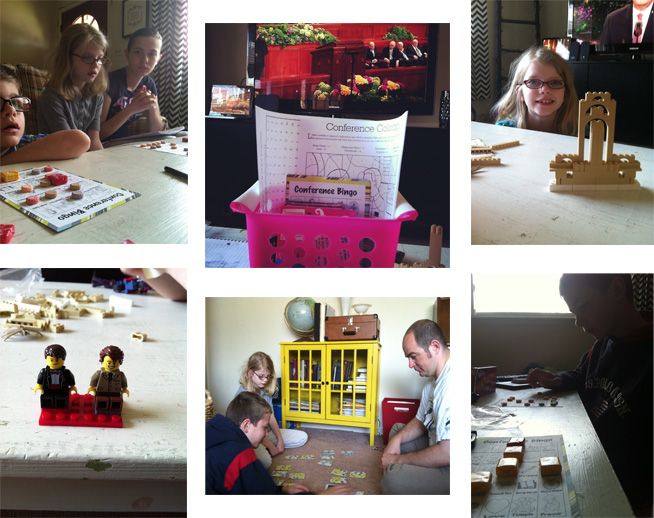 Conference was very good
(isn't it always, though?)
. I was happy to hear some talks that touched on parenting and am anxious for them to be available at
lds.org
so I can read them again. The 10 commandments were also spoken of and the kids suggested we learn all of them in order. This will be a Fun Family Home evening challenge over the coming months. The activity basket I put together was a big hit with the kids. It kept them occupied 85% of the time, which makes this mama happy. In the past, listening to conference was never that easy. Keeping littles quietly busy for a whole two days was practically impossible. Last year, we watched conference at the church, which was a total failure in our attempt to have them reverently watch our church leaders speak. I am grateful they were quiet enough for me to hear and digest most of the inspired messages given this weekend.