Hello friends. It's a special weekend. Our family will be gathered around our tv to watch the president and prophet of our church (The Church of Jesus Christ of Latter-Day Saints), Thomas S. Monson, speak. His counselors and other leaders will be speaking as well. And I can't wait. It seems I need to be uplifted, enlightened and directed every time
General Conference
rolls around. I usually don't get too religious on my blog, but religion is a
very
big part of my life. What I believe makes me who I am and I try to live my religion the best that I can every day. I am not claiming to be perfect. I am human, after all. I've had to deal with a lot of hard things in my life, but all things have been bearable because I have religion in my life.
Conference weekend is great, but it can be a challenge to listen to every single talk if you've got 4 kids who don't know how to sit still for all four of the two hour sessions. That's a lot of sitting and listening and my kids just don't last that long. In an effort to help them do quiet things while we all camp out in our living room, I put together a little basket with activities the kids can do quietly.
I got the basket at Dollar Tree, along with 3 notepads for drawing and 2 boxes of candy for a game of bingo. I already had a new box of crayons (left over from school supply shopping) that can be used to draw in their notepads. I grabbed some of the boys' legos and they will be challenged to build a temple or church building with them - all while being quiet and listening, of course ;) I also printed up some activity sheets, a bingo game, and some prophet & apostle cards the kids can use to play a memory game with.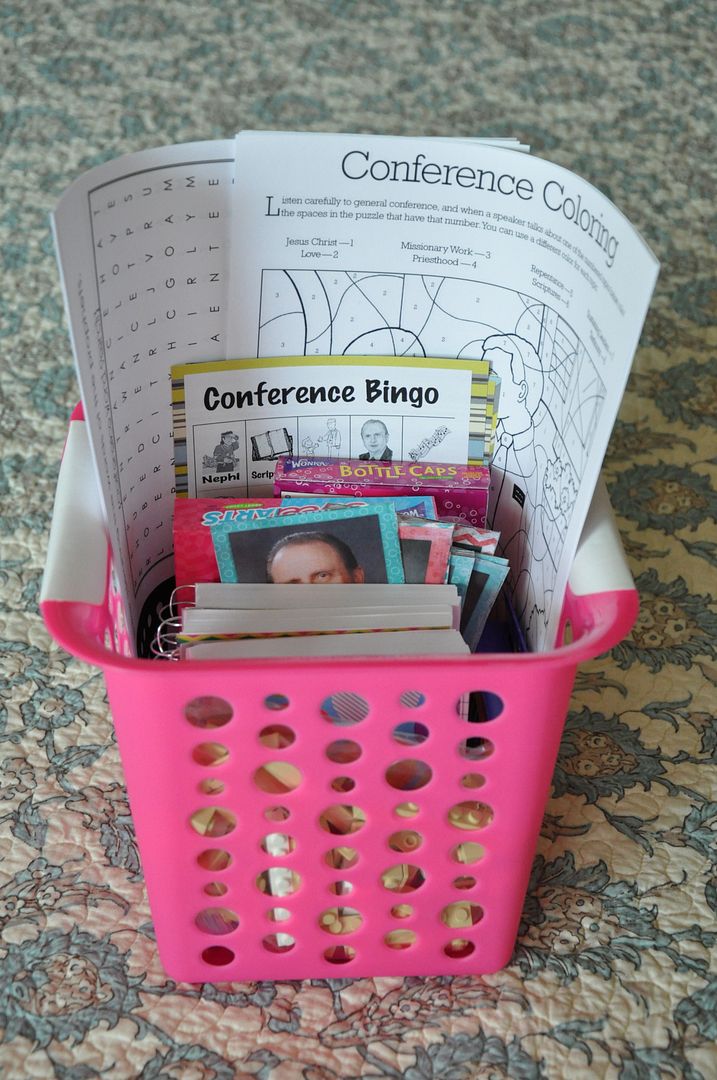 I scoured the internet and pinterest for ideas. Here is what I ended up putting in our quiet basket:
Conference coloring pages:
HERE
&
HERE
small notepads and a box of crayons for drawing
build a temple/church out of legos
Apostle/prophet BINGO (w/candy):
HERE
Apostle/prophet matching game:
HERE
I hope this will keep them quiet enough to play and listen at the same time. We'll see!