In between all the hustle and bustle of the holidays, I have to remind myself to take some time out just for me. Keeping a regular exercise routine is important for my sanity - especially when life gets a little crazy. My go-to workouts are pilates, walking and kettle bell exercises. I find these workouts challenge me (and make me sore in places I never knew I could be) and vary enough to keep my body on its toes.
If you're like me, splurging for pricey exercise equipment is just not in the budget. But you really don't have to shell out big bucks to get quality items. I put together a fun little gift guide for you that won't break the bank. In fact, everything you see is just $60 or less!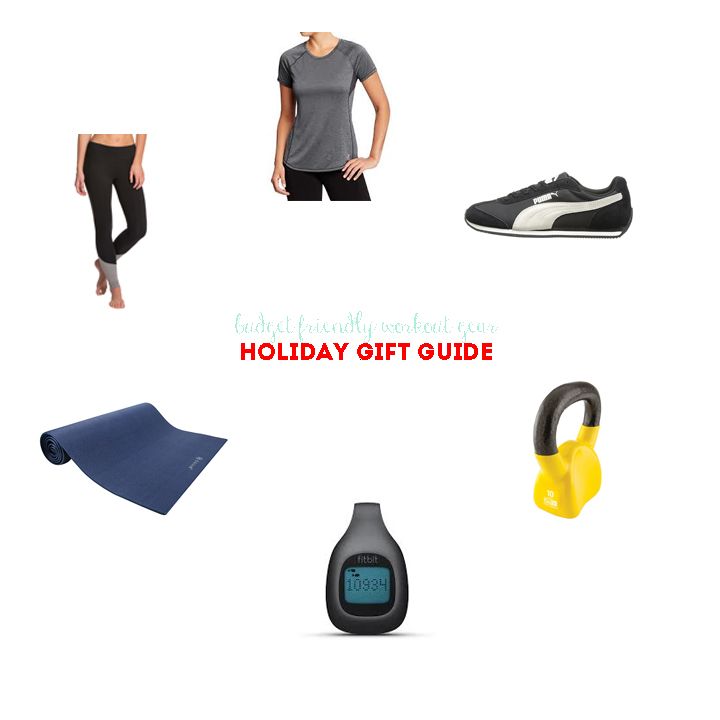 Items going clockwise:
1.
Active Mesh Top:
These
Old Navy
tops are perfect for working out - stylish, cute & cheap!
2.
Puma Rio Speed tennis shoes:
These Pumas are perfect for that cute, I-just-worked-out look.
3.
GoFit contoured kettle bell:
Kettle bells great for working your whole body and the contoured design doesn't hurt your arms. They come in various weight amounts. (I used this kind along with Bob Harper workout DVD's and LOVE it!)
4.
Fitbit Zip:
This is a super cute pedometer for the walker/calorie counter in your life that syncs to your phone (I really want this to make it into my stocking this year. Hint hint.)
5.
Gaiam Pilates Mat:
This mat from
Yogaoutlet
is sooooo good for pilates. I was doing pilates on my plain old carpet for years and this mat has changed my life. It's thick and fabulous. If you do pilates and don't have one - get one!)
6.
Marika Kitcket Legging:
I wear these cute pants from
Yogaoutlet
for my pilates workouts. They give the right amount of stretch and come at a great price - a perfect piece to add to your workout attire. Yogaoutlet.com has a fabulous selection of workout clothing and gear for all budgets. Give them a look see!

**This post was done in collaboration with Yogaoutlet.com, however, all opinions are my own.