Our little family is new to this whole home renting thing. I can hardly believe that in just a month, we'll have been renting for an entire year. We were in Arizona for so long and now it seems like it was ages ago that we were ever there. My heart hurts a little just thinking about it. Whatever. I love you Arizona and we will come back. Someday. Anyhoo, so this whole renting thing has kinda put a damper on my willingness to decorate. We are saving up for a house, which means we will not be in this little brick rental home forever.
Thank goodness cuz things are tight in here!
When we moved in, our landlord gave us the green light to hang pictures on the walls. I was excited and started decorating the whole house in my mind. Up until now, all those ideas stayed in my mind. I have no idea why. Yeah, my brain is one big decorating notebook. I think I just had to let the idea go that even though the home we live in officially belongs to someone else, there is no reason why I can't make it a reflection of who we are as a family. One project is all it took and now I'm on project overload.
We are not allowed to paint the walls. Boo! Although I have to admit plain white walls are starting to grow on me. I am enjoying adding pops of color into our decor instead of on the walls. Things can be changed out seasonally or painted over when I get tired of a color and want something fresh. Speaking of fresh, check out this deer I hung and framed on our living room wall this weekend. Actually, the Mr. did all the hard work but I made sure it was all level and stuff.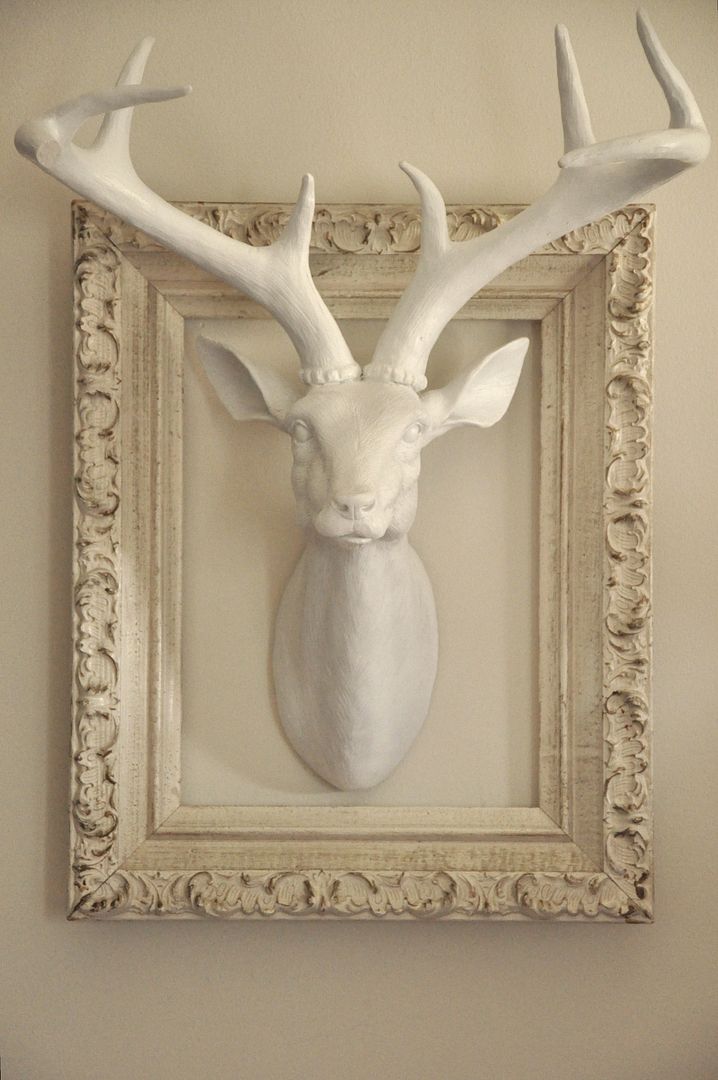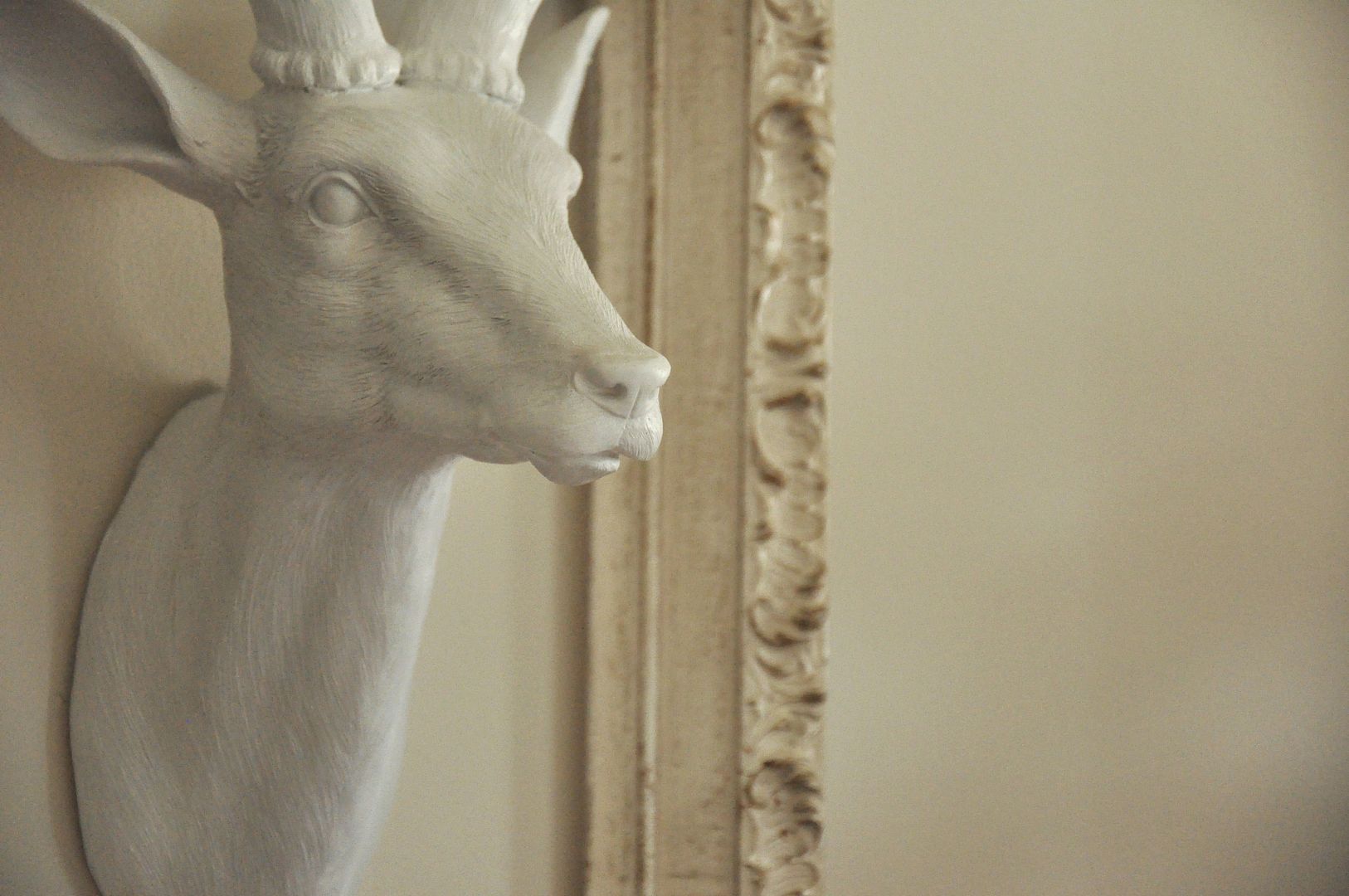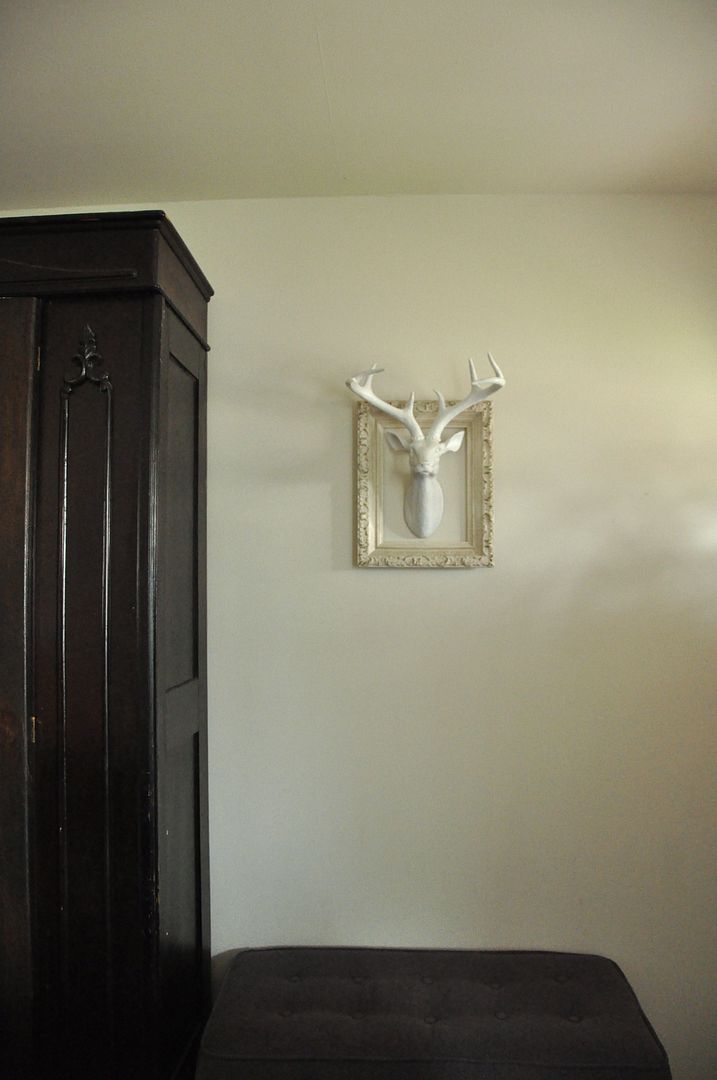 Yes, the deer has a broken antler, but I figured since the break was clean, I can just glue it back together. I have wanted a fake deer head for like 5 years now and finally splurged for this one from Z Gallerie. It's a little heavy, so we used a heavy duty wall anchor and screw to hang this
puppy
deer. We had an ornate thrifted frame in our stash (found at a consignment shop in AZ) so I removed the glass and used it to frame to deer to give it a more complete look. If you want to do something similar, I suggest setting everything up on your floor first. It would be super frustrating to find out your object doesn't fit or look good in your chosen frame. Once you like how your frame and object fits & looks together, you can set it all up on your wall space. Mr. Deer hangs by the front door over our footstool, which holds our extra blankets, and next to our vintage wardrobe (my favorite Craigslist find yet). Now I just need to spruce him up with a little Valentine garland.