I have 4 kids, three of which are in elementary school. And you know what that means - parties. Valentines Day typically falls into the most expensive school party category because the kids are asked to bring a special something for each person in their class. This year, I was determined to make homemade valentines instead of store bought cards the kids have insisted on buying in the past.
Who's in charge here anyway?
I also wanted to keep the expense to a minimum. I scoured pinterest and google and came up with two great options - one for boys and one for girls.
The first valentine uses glow sticks. I bought two tubes, 15 sticks in each. And each package was only $1. Cheap, I tell ya ;) The easiest way to insert a stick is to use a blade (I used a box cutter) to make an upside down T right at the top of the metal part of the light saber on the picture. After inserting the glow stick about half way, add a plastic connecter to the hidden end of it. Be careful when doing this that you don't "break" the stick - otherwise it will use up all its light before it even makes it to the classroom. Finally, tape it down. That's it!
I wanted something more girly for the girls and found some cute bubbles with hearts on top in the wedding section of Michaels. There are 30 in the box and that was enough to give each girl in all 3 of my kid's classes one each and still have a few left over. I googled something like "free valentine bubble printable" and found a cute and simple tag to attach to each heart on the top of the bubbles with some yarn from my stash. To make a hole for the yarn to go through, I used my Martha Stewart heart punch. I use my heart punch on a regular basis - probably more than a regular hole punch. There I said it. I am a heart punch addict ;)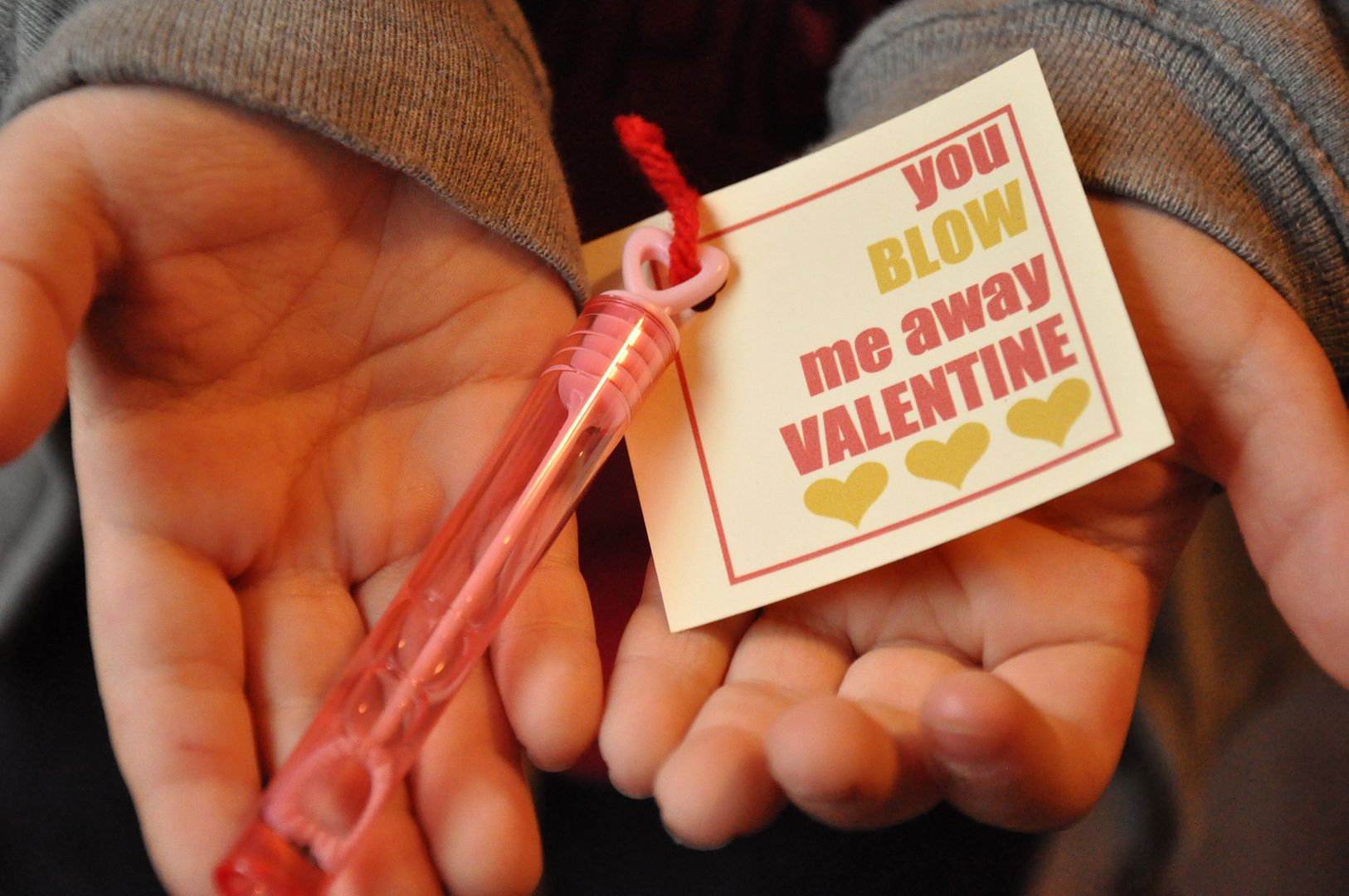 These were so quick and easy to make. From start to finish, it took me about 3 hours - and that includes the time I spent at Michaels to buy supplies. My grand total was just $11.54 for the bubbles and glow sticks. Not bad for having to make about 60 valentines! Then rest of the supplies I already had on hand (cardstock, yarn, scissors, heart punch, paper trimmer, box cutter). I am hooked on homemade valentines.
Are you? I'd love to see what you made this year! Leave a link in the comments below.
Sources:
Star Wars Valentine
and
Bubbles Valentine